What is 'Mid Century Modern'?
The term "mid century modern" was coined in 1984 by Cara Greenberg as a way to describe the Avant-garde trends in style that emerged in post-war America during the 1950s.  These trends in style included the use of bold colors, sleek and clean lines, organic shapes, and innovative new materials.  This hip new style was evident in the architecture, art, and home furnishings of the era.  The designers of the time wanted to promote the concept of 'form  and function' and believed that high quality furniture that was both aesthetically appealing and reasonably priced should be available for the masses not just the upper class.  The mass production techniques pioneered during this era is the reason why we are able to see such an abundance of these products still in circulation today.
Some say that because of the highly stylized nature of the items of this era, that mid century modern doesn't really go out of fashion.  Like a fine piece of art, these items seem to carry a timeless and classic appeal.  And the popularity of the era appears to be continuously gaining in momentum as enthusiasm for all things mid century modern rises.  This is evident when you go into your local chain bookstore and pick up a copy of 'Atomic Ranch Magazine'; an entire magazine devoted to the mid century way of life, and features articles on designers, architecture, homes, and furniture care, along with countless ads for mid century modern retail shops across the country.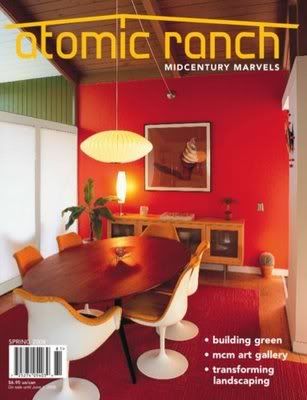 -the mod fix